About Me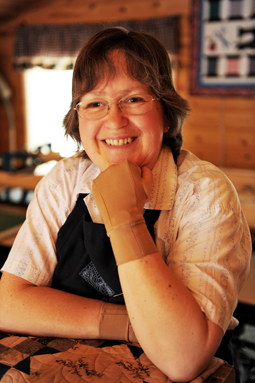 I have always loved quilts! I remember as a child being given one made by a family friend. I know how it made me feel when I wrapped myself inside it. It was like I was being hugged by a blanket of love. I knew then, that someday I would make one myself.
I pieced my first quilt using a McCall's tissue pattern back in the year the USA was celebrating its Bicentennial. It really wasn't very good. I knew that I needed to learn some skills to accomplish the quality of workmanship that I desired. Over the years, I've taken many quilting workshops to learn the different techniques used in quilting. I've made many quilts in the process. Most of those early quilts were hand quilted.
Then, when I became a busy working mother, I knew that something needed to change. I just couldn't complete all the tops that I was producing. I took a machine quilting class from Harriet Hargreaves and I saw the beautiful work that she could accomplish using her home sewing machine and I wanted to do the same. However, it wasn't quite as easy as I had expected. Then I met Pam Clarke of Spokane, Washington. She opened up a new world to me. Her Design with Lines technique allowed me to have the confidence to machine quilt some of my projects. I discovered that I loved to machine quilt. Several years later, I bought my A-1 Longarm quilting machine and started my machine quilting business.
I love to learn and continue to take classes so that my skills are always getting better. In addition to taking numerous classes from Pam Clarke, I have taken machine quilting classes from renowned instructors such as Jamie Wallen, Anne Bright, Christine Olsen, Mary Eddy, Nicole Webb, Sally Terry, Irene Blumn, Suzanne Earley, Linda Taylor, Kim Stotsenberg, Linda Mae Diny, Kimmy Brunner, and Karen McTavish to name a few.
Several years ago, I began teaching beginners quilting classes at my church. This led me to teaching at local quilt shops and at quilt guilds. In 2008, I was introduced to the revolutionary Square in a Square® technique developed by Jodi Barrows. I'm now a Certified Instructor for this technique and am available to teach it.
On a personal note, I'm married to my childhood sweetheart and we have 3 grown sons. We live in the country near the beautiful British Columbia Rocky Mountains. Check out this link to see the beautiful area that I live in. YVR Showcase